Moving to Bangalore can be an exciting adventure, but it can also be a daunting task if you're not adequately prepared. To ensure that your move to Bangalore is smooth and stress-free, it's essential to plan ahead and complete all the necessary tasks before you move. In this blog post, we've put together a checklist of essential tasks that you should complete before you move to Bangalore.
1. Find a Place to Live
Before you move to Bangalore, you need to find a place to live. Research different neighborhoods, consider your budget, and determine your priorities. Make sure to visit potential homes and apartments before signing a lease or rental agreement.
2. Hire Professional Packers and Movers
Hiring professional Gati packers and movers in Bangalore can make your move easier and stress-free. Research different companies, read reviews, and get quotes from different companies. Choose a reputable and experienced packers and movers company that can handle your move efficiently.
3. Declutter Your Home
Before you start packing, declutter your home. Get rid of items that you no longer need or want. This will reduce the amount of stuff you need to pack and move, and it can also help you save money on packing supplies and transportation costs.
4. Notify Utility Companies
Make sure to notify utility companies such as electricity, gas, water, and internet service providers about your move. This will ensure that you're not billed for services that you're not using, and it can also help you avoid any disconnection fees.
5. Update Your Address
Update your address with your bank, credit card companies, insurance providers, and any other organizations you're affiliated with. This will ensure that you receive important mail and that your information is up-to-date.
6. Transfer Your Documents
Make sure to transfer important documents such as school records, medical records, and financial documents to your new location. This will ensure that you have access to all the necessary information when you need it.
7. Pack Smartly
Pack smartly to ensure that your belongings arrive safely at your new home. Label your boxes clearly, pack fragile items with care, and pack heavy items in small boxes. Use packing supplies such as bubble wrap, packing peanuts, and tape to protect your items.
8. Say Goodbye
Finally, say goodbye to your friends, family, and community before you leave. Take some time to say your goodbyes, make plans to stay in touch, and cherish the memories you've made.
In conclusion, moving to Bangalore requires some careful planning and preparation. By completing all the essential tasks on this checklist before you move, you can ensure that your move is smooth and stress-free. Hire professional packers and movers services in Bangalore, declutter your home, notify utility companies, update your address, transfer your documents, pack smartly, and say goodbye to your loved ones. Follow this checklist to make your move to Bangalore a success.
Moving to a new home or office can be both exciting and daunting. The idea of starting fresh in a new space is exhilarating, but the actual process of packing and moving can be overwhelming, time-consuming, and stressful. That's why many people choose to hire Gati Packers and Movers to help them with the move. However, choosing the right packers and movers can be a challenge. In this blog, we will discuss how to choose the right packers and movers for your move.
Do Your Research
The first step in choosing the right packers and movers is to do your research. Look for companies that have a good reputation in the industry and have positive reviews from previous customers. You can also ask for recommendations from friends, family, or colleagues who have recently moved. It's important to choose a company that is licensed and insured.
Get Multiple Quotes
Once you have a list of potential packers and movers, it's time to get quotes from each company. Ask for a detailed quote that includes all the services they will provide, the estimated cost of the move, and any additional charges. Be wary of companies that offer a significantly lower price than others, as this could be a sign of hidden fees or poor quality service.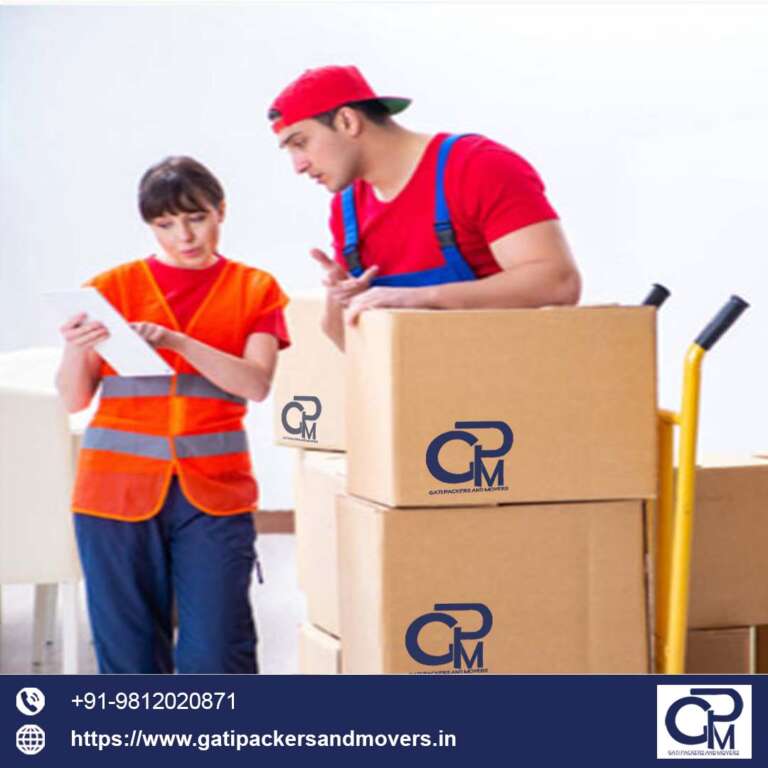 Check the Credentials

Before finalizing your decision, check the credentials of the packers and movers. Make sure that the company has a valid license to operate and that their insurance policy covers any damages or losses during the move. You can verify the credentials of the company by checking with the Department of Transportation or the Better Business Bureau.

Ask About the Packing and Moving Process

It's important to know the packing and moving process of the company you're considering. Ask about the materials they use for packing, how they handle fragile items, and the equipment they use for loading and unloading. A reputable company should be able to answer all your questions and provide you with a detailed plan for the move.

Look for Additional Services

In addition to the basic packing and moving services, some companies offer additional services like unpacking, assembly, and disassembly of furniture, storage, and cleaning services. Consider the additional services offered by the company and whether they will be useful for your move.
In conclusion, choosing the right packers and movers can make your move smooth and stress-free. Do your research, get multiple quotes, check the credentials, ask about the packing and moving process, and look for additional services. By following these steps, you can ensure that you choose and contact the right gati packers and movers for your move.
I'm sure you'll be concerned about the secure transportation of your stuff if you are relocated to a different city or state. Under the guidance of an experienced moving company, you may relocate safely and without accidents. Not only can they assist with transferring your possessions to any other place, but they can also handle the entire moving procedure with great ease. You may have a secure and trouble-free moving experience by just watching the skilled team of gati packers and movers at work on your relocation.
However, all of these things are only achievable if you work with reputable and skilled Gati packers and movers in Bangalore. Because there are so many moving companies, it might be difficult for those who are moving to pick the best packer and mover. There are a lot of dishonest movers in the city as well, and they're simply waiting for you to say anything to let them take advantage of you.
Try to gather recommendations from individuals you know. Because of this, you may entrust the business with your things. Because they know you wouldn't do them any harm, your friends and coworkers would only offer you honest feedback about the movers. So, if at all feasible, ask for recommendations before hiring the best and most dependable packers and movers.
There are several online websites available for you to use to reserve packers and movers services in Bangalore. You may get a list of just authorized and accredited moving firms on these platforms. Therefore, you may trust them to choose your mover. But remember to examine their internet reviews as well.

If your mover requests payment in full upfront, there is unquestionably a problem. You should ask them why they are asking for full payment in advance right now. Also, make an effort to avoid paying. They can be thieves who take your money and possessions and flee. Learn every aspect of the costs for packers and shifting company.
Closure!
If you want to move safely and without incident and avoid being taken advantage of by dishonest movers and packers, heed this advice. Have a smooth move!